2021 Annual Dinner & Awards Night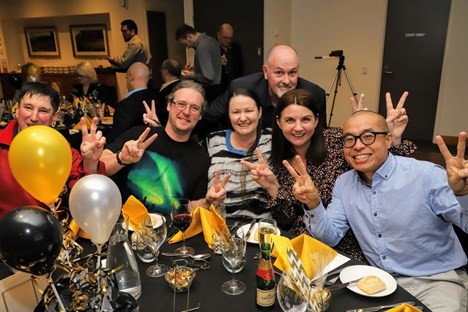 Announcing the 2021 ASSA Annual Dinner! Please join fellow members, families and friends for dinner, drinks and the Annual ASSA Awards at the new date of 7:00pm Saturday 21 August (postponed from 24 July) at the Glenelg Golf Club. All members and friends are invited to attend this annual event to celebrate another successful year of the Astronomical Society of South Australia.
The evening will feature
Presentation of a variety of ASSA awards to acknowledge the outstanding contribution of select individuals

A delicious three course dinner with a choice of 2 entrees, 2 main courses & 2 desserts followed by coffee & chocolates

Announcement of the winners of the Astrophotography Award and Craig Richardson Memorial Award

Raffles and door prizes
Cost: $68 per head. Click here to book your tickets.
How to book: Bookings are essential as places are limited. Bookings open on June 1, and must be made online via this website by 9th August.
For more information, contact Lyn Grida on (08) 8391 5377 or email observatories@assa.org.au
The ASSA Award categories are as follows:-
Bill Bradfield Astronomy Award: The Society's most prestigious award is in recognition of members of the Society who have contributed to Astronomy either by astronomical discovery, research or observational astronomy over an extended period of time.
Annual Service Awards: In recognition of members who have made notable contributions to the Society over several years up to and including the current membership year.
Craig Richardson Memorial Award: For images of aurora, foreground scapes and the night sky backgrounds (includes a cash prize of $100 donated by the Richardson Family).
Astrophotography Award: For all astronomical images, including wide field, lunar, planetary and deep sky.
Editor's Award: For best original article published in The Bulletin, as chosen by the Editor.
Event info
Saturday 21 Aug 2021
7:00 PM - 11:30 PM
Glenelg Golf Course - James Melrose Road, Novar Gardens
More events like this
August 2021
Sun
Mon
Tue
Wed
Thu
Fri
Sat
1
2
3
4
5
6
7
8
9
10
11
12
13
14
15
16
17
18
19
20

August 21, 2021

EVENTS TODAY: 121
22
23
24
25
26
27
28
29
30
31