Blue Supermoon Eclipse
A Total Eclipse of the Moon will occur on the evening of Wednesday 31 January, commencing at 9:21pm with totality lasting from 11:22pm until 12:38am where the moon is expected to turn a copper/red colour.
You do not need any special equipment to view the eclipse (just your own eyes!), nor will you need to travel to see it - it will be visible across Australia. Just make sure your have a clear north-east horizon, as the moon will be approx. 30 degrees above the horizon when totality begins.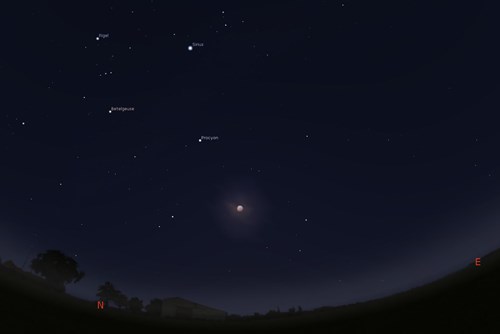 See photos of the 2007 Total Lunar Eclipse
The following poster shows the path and times for Adelaide (ACDT), produced by member Martin Lewicki and reproduced here with permission.
Event info
Wednesday 31 Jan 2018
9:21 PM - 2:38 AM
Adelaide
More events like this
March 2019
| Sun | Mon | Tue | Wed | Thu | Fri | Sat |
| --- | --- | --- | --- | --- | --- | --- |
| | | | | | 1 | 2 |
| 3 | 4 | 5 | 6 | 7 | 8 | 9 |
| 10 | 11 | 12 | 13 | 14 | 15 | 16 |
| 17 | 18 | 19 | 20 | 21 | 22 | 23 |
| 24 | 25 | 26 | 27 | 28 | 29 | 30 |
| 31 | | | | | | |