ASSA@Home Casual Friday
COVID-19 Update: All ASSA activities & events have resumed except for Public Viewing Nights which remain suspended until further notice. COVID-Safety Plans are being developed by ASSA for its Dark Sky AstroCamps at both Alpana and Bendleby.
LIVE Friday, 12 February @ 7:30pm | ASSA@Home
This is a free-flowing live video session where members can discuss any aspect of our wonderful Astronomy hobby and the night sky. Topics can include how to find objects in the night sky, what equipment, software or books to buy, sharing something that has helped you in doing Astronomy, or general questions about ASSA and its facilities. The session is designed to be accessible and of interest to members at all levels. We hope to see many of you online! Moderated by Gerard O'Born.

Please note: the session will be held on Zoom and will not be recorded.
 
You do not need a Zoom account to participate. Simply follow the link that will be sent to ASSA Members via email beforehand.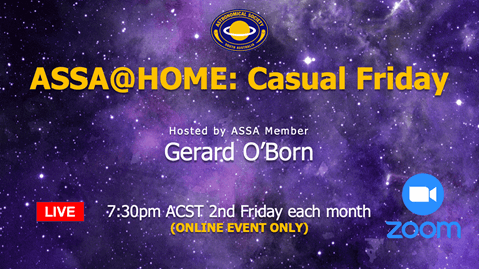 Event info
Friday 12 Feb 2021
7:30 PM - 9:30 PM
Online - Zoom
More events like this
February 2021
Sun
Mon
Tue
Wed
Thu
Fri
Sat
1
2

February 3, 2021

EVENTS TODAY: 23
4
5
6
7
8
9
10
11

February 12, 2021

EVENTS TODAY: 112
13
14
15
16
17
18
19
20
21
22
23
24
25
26
27
28