See two comets in the early evening sky together and Comet C/2011 (PANSTARRS) and Comet C/2012 F6 (Lemmon) hover over the south-western sky after sunset.
Comet PANSTARRS is currently visible to the naked eye, at magnitude 2.5 with a tail that appears the size of the moon's diameter. ASSA member and comet hunter Michael Mattiazzo said "through 8x40mm binoculars, the first 30 arcminutes of tail appears quite intense with a golden hue. The total tail length is 2 degrees. In a 20cm (8-inch) telescope, the tail displays a prominent dark lane."
"Athough not as visually impressive as PANSTARRS, Comet Lemmon displays a bright ion tail, traceable to 5 degrees in binoculars and over 10 degrees on a photo. I'ts rate of brightening has stalled somewhat, appearing only magnitude 5.0 to the unaided eye, but it is a rare treat to be able to see 2 naked eye comets simultaneously, from a dark sky site."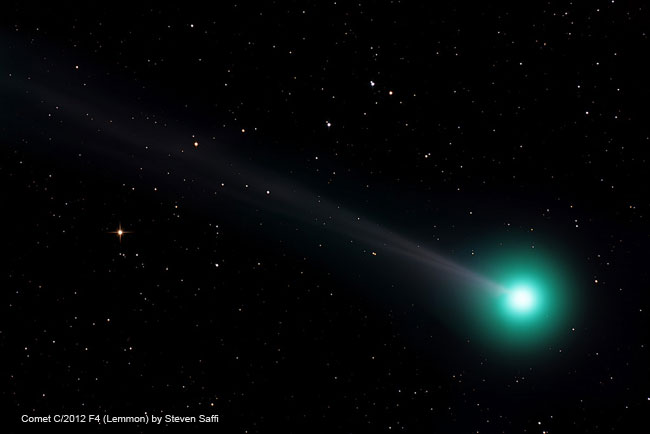 The best place to see the comets are from the beach at around 9pm.
The following full-sky chart shows the approximate location of the two comets at 9pm at the beginning of March.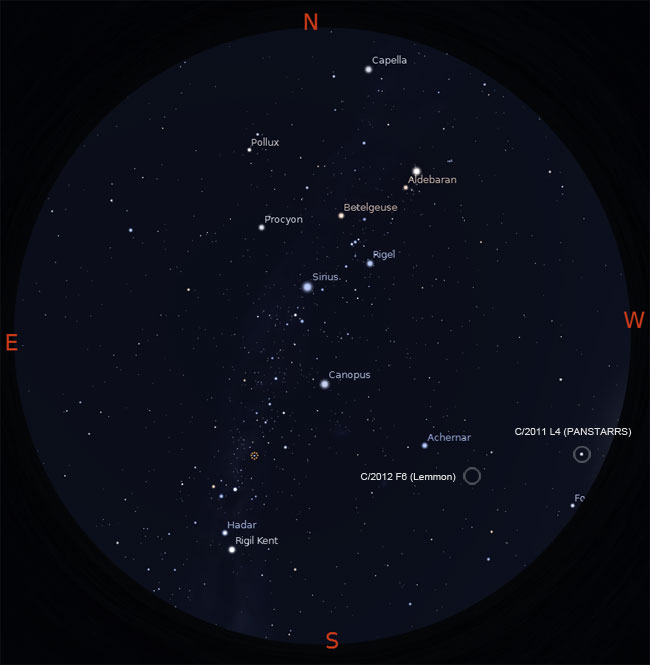 The following finder chart show the exact location of C/2012 F6 (Lemmon) and C/2011 L4 (PANSTARRS) over the next few nights.