Online Star Parties
Suspension of Public Viewing Nights: Due to ongoing COVID-19 safety concerns, ASSA in-person Public Viewing Nights (also known as star parties) have been suspended indefinitely and are unlikely to resume in 2021. This means there will be no ASSA Public Viewing Nights conducted at Stockport Observatory, The Heights School (Modbury), Hawthorndene Oval, or at any ASSA regional hubs until further notice.
Introducing Online Star Parties
The Society has been sharing its knowledge and views of the night sky since 1892. Indeed, sharing the night sky with the public is critical to our core objective of encouraging public interest in Astronomy. And it's something our members enjoy immensely. However, the COVID-19 pandemic means we have had to adapt our activities to ensure the safety of both members and the public.
Commencing February 2021, the Society will conduct regular Online Star Parties in place of its in-person Public Viewing Nights. An array of member telescopes located across the Adelaide area and beyond will provide live views of celestial objects over southern Australia including close up views of craters on the Moon, beautiful nebulae, brilliant star clusters and distant galaxies. A panel of experts will guide viewers and provide a curated experience throughout the evening and answer Astronomy questions from the public. Online Star Parties are suitable for viewers of all ages regardless of their knowledge of the night sky.
Some of the latest and most advanced telescope technologies available will be used by ASSA members to live stream views through telescopes over the Internet.
The next ASSA Online Star Party will be held 7 to 9pm ACST Wednesday 26 May 2021. It will feature a live stream of the Total Lunar Eclipse visible over Australia with multiple live and closeup telescopic views of the Moon, plus presentations by experts throughout the evening.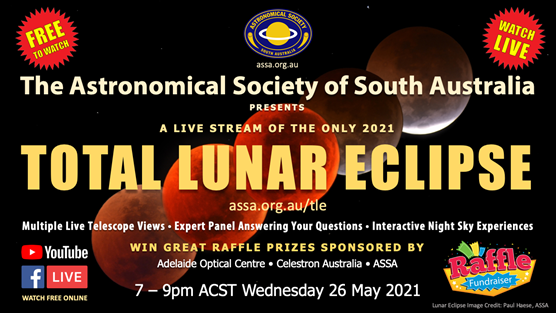 The first ASSA Online Star Party was held on Saturday 20 February 2021. Below is a recording of the event which proved very popular with the public. 
There are no events this month
September 2021
| Sun | Mon | Tue | Wed | Thu | Fri | Sat |
| --- | --- | --- | --- | --- | --- | --- |
| | | | 1 | 2 | 3 | 4 |
| 5 | 6 | 7 | 8 | 9 | 10 | 11 |
| 12 | 13 | 14 | 15 | 16 | 17 | 18 |
| 19 | 20 | 21 | 22 | 23 | 24 | 25 |
| 26 | 27 | 28 | 29 | 30 | | |